ACTION: Book Christian Heritage of Kosovo, donate to US Congress/Library
THE CHRISTIAN HERITAGE OF KOSOVO AND METOHIJA

Exceptional new book on Serbian Christian Heritage in Kosovo and Metohija, its heartland in medieval times and through Ottoman domination, is intended to
introduce to a wide reading public the oldest and richest treasury of Serbian
medieval history and culture.  

ORDER | DONATE | CONTACT US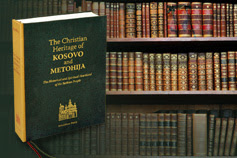 ORDER FOR YOURSELF
Regardless of whether you are a person of Serbian heritage, Christian faithful, or simply an inquisitive intellect keen on broader civilizational trends - this book deserves a place in your library. It can be used for reading or sharing with your family, friends, and co-workers, at the reader's own time and pace. Order a copy for yourself, your family, and your friends. Need Slava or Christmas present? Order now to receive it on time.
ORDER FOR LIBRARY
As we freely partake in the cultural and spiritual heritage of our adopted countries, it is also important that we share and show our own ancestral heritage. Order a book for your local library, University library in your vicinity, or simple donate it to the library prioritized by our staff.
ORDER FOR US CONGRESS
By donating this book to your elected representatives, you ensure that your history and the faith of your ancestors are properly understood and appreciated in the communities you live in. Purchase a book for donation for your own representative/senator or simple let our staff prioritize your gift. Most of the books are personally delivered by the volunteers among the Washington DC community.
christian-heritage.eserbia.org
Please help us distribute this action!  You may select to order/donate 
multiple copies of the books
.
   PATRONS OF THE CHRISTIAN HERITAGE OF KOSOVO AND METOHIJA
Patriarch Irinej, Serbian Orthodox Church
Archbishop Demetrios of America
George Voinovich, United States Senator
Emir Kusturica, Film Director
Jasmina Vujic, Professor
Dejan Bodiroga, Basketball
Full list of patrons
christian-heritage.eserbia.org